January 6, 2018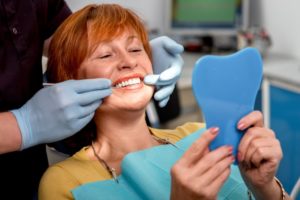 If you've had a tooth fail due to decay or from an injury, you probably know how difficult it can be save once enough damage has occurred. And that's not exclusive to your mouth either; expensive treatments can add up quickly. Fortunately, there is a more cost-effective method for tooth-replacement available from your dentist in Powell.
With the help of dental implants, you can achieve a truly permanent smile that last for years and contributes to your oral health. Check out these reasons to consider dental implants during your next visit.
To Save Your Bone, Your Mouth Needs Roots
When teeth fall out and all that's left is empty space, blood ceases to flow to that part of your mouth. As this area remains empty, your gums will start to lose muscle and the bone supporting that tooth will begin receding. This will cause your jaw to lose strength and make eating more difficult later on.
Other replacement methods like bridges and dentures rest on top of the gums or other natural teeth. They don't replace the tooth roots which are responsible for promoting bone growth and blood flow. That's where dental implants come in.
Dental Implants are the Best Method for Restoring Teeth
Dental implants are designed to act as a prosthetic root, allowing your bone to continue growing and your gums and face to retain its youthful shape. They don't just look the part of natural teeth, but actually play the part as well. They're maintained just like the rest of your teeth and are designed to last several decades. They can even last a lifetime if they're properly cared for.
Thanks to their incredibly high success rate (97% to be more specific), it's no surprise that patients and dentists alike are flocking to them more and more every year.
Dental Implants vs. Saving Your Current Tooth
Multiple endodontic treatments can add up very quickly when trying to save a natural tooth. What's even worse is there's no guarantee that the tooth will be saved. Even if it is, it won't compare to the durability and longevity that dental implants carry. Dental implants in Powell are widely considered to be the most cost-effective because of this.
Instead of spending months or even years of time trying to fix and maintain a badly damaged tooth, you can get what is essentially a brand-new tooth root infused into your bone and capped with a crown. Because dental implants lack a periodontal ligament, they'll stay in your teeth better than your natural teeth!
So what are you waiting for? Don't waste time and money on treatments for a lost cause. Schedule a dental implant consultation with your dentist today!
About the Author
Ryan Eskridge, DDS, earned his dental degree from the Ohio State University College of Dentistry before attending the Dawson Academy. He has plenty of clinical experience with CEREC CAD/CAM technology, which allows him to produce conservative dental restorations in a single visit. To learn more about his practice, contact him at (614) 792-0063 or visit his website.
Comments Off

on 3 Reasons to Consider Dental Implants from Your Dentist in Powell
No Comments
No comments yet.
RSS feed for comments on this post.
Sorry, the comment form is closed at this time.