Dental Implant-Supported Dentures - Powell, OH
Recreate Your Lost Smile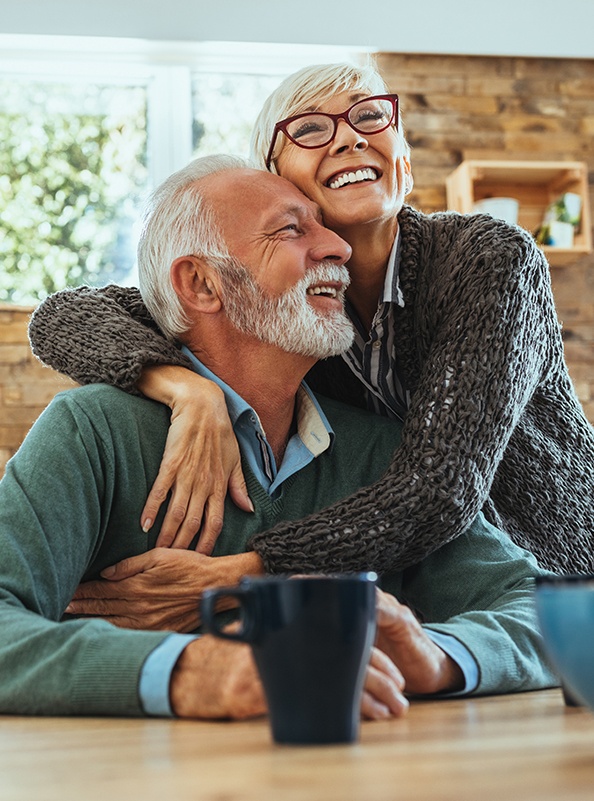 If you're trying to decide between dentures or dental implants to replace missing teeth, then consider getting both. With implant-supported prosthetics, your dentist in Powell can give you the stability of implants and the beauty of a full smile with implant-retained dentures, overdentures or a bridge. Even if you've been a successful denture wearer for many years, you may enjoy the security and confidence that dental implant-supported dentures in Powell, OH can offer.
Why Choose Wedgewood Complete Dentistry for Dental Implant-Supported Dentures?
Enjoy A New Smile For Decades
Custom-Made Dentures
Flexible Appointment Times
What Are Dental Implants?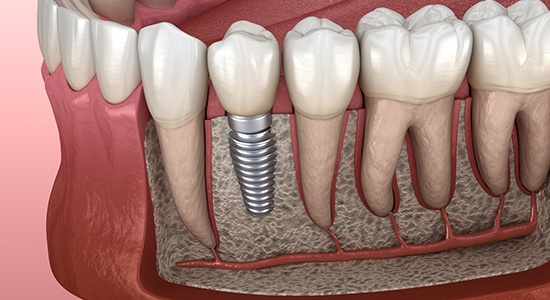 Dental implants are the nearest substitute for natural teeth. With a titanium post surgically implanted in bone to replicate the root and a porcelain crown, bridge or denture restoring the crown, these prosthetics offer both a strong foundation and aesthetic value.
For dental implants in Powell, our dentists work in conjunction with a periodontist or oral surgeon in the area who will perform the surgical phase of the dental process. You'll need a few months to heal so the implant and surrounding bone tissue can fuse together. Then, you'll return to Wedgewood Complete Dentistry for the restorative phase.
The Advantages of Dental Implant-Supported Dentures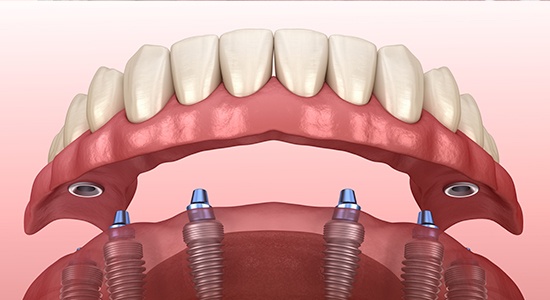 A traditional denture rests on top of your gum tissue; muscle tension, suction, and denture adhesive hold this type of prosthetic in place. Similarly, a bridge is suspended over the gap in your smile and is secured to crowns mounted on adjacent healthy teeth.
Implant-supported dentures, on the other hand, are firmly anchored to your dental implants. They do not move so you'll be able to eat, speak and smile without the worry of a denture slipping out of place. In addition, dental implants offer the added advantage of stimulating healthy new bone tissue growth. Without a tooth root in place, that portion of your jaw begins to melt away, leading to a sunken and more aged appearance. Dental implants ensure that the structure of your jaw and face remain the same.
Types of Dental Implant-Supported Prosthetics
The type of prosthetic you need will depend on the number of teeth you're missing. For one or two consecutive missing teeth, a bridge will work. In this case, the surgeon will place implants on either side of the gap to anchor the bridge of false teeth in place.
Implant-supported dentures are designed to remain in your mouth permanently. They have an undercarriage that connects to the dental implants. If necessary, these can be removed by your dentist. Otherwise, they are just like natural teeth, requiring the same oral hygiene care at home that includes brushing and flossing.
Implant-supported overdentures are removable. You'll be able to take these out nightly for cleaning with a special denture cleaner and soaking in either water or a denture solution.