Trusted Powell, OH Dentist
Get to Know Dr. Ryan Eskridge, DDS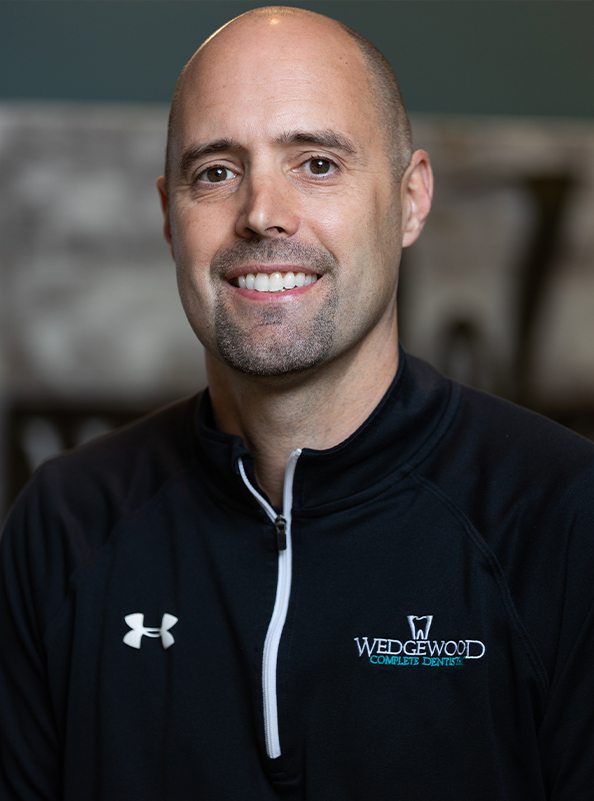 For nearly two full decades so far, Dr. Eskridge has been fortunate enough to provide a vital service for a great group of patients that he likes and who appreciate the effort and skill the Wedgewood Complete Dentistry team exhibits every day. For him, there is no such thing as getting bored of dentistry! He loves that there is always something new to learn, a new technology to integrate, or new clinical philosophies that will benefit people in the long-term. Interested in learning more about him? Just keep reading below.
Why Did You Decide to Become a Dentist?
While growing up in Kent, Dr. Eskridge was lucky enough to visit an exceptionally kind dentist who he really admired. However, it wasn't until much later in life, after a year in the business program at John Carroll, that he realized he wanted a career that was different from the corporate world. One of his basketball coaches at the time (he was a four year starter on his college team) set up a meeting with his uncle, who was a general dentist in Cleveland, and Dr. Eskridge was instantly interested in how the man worked with his hands and interacted so closely with patients. He decided it was the right career for his strengths and talents too – and many years later, he still feels confident that he made the right choice.
Where Did You Study Dentistry?
Dr. Eskridge graduated from the Ohio State University College of Dentistry in 2002. He then immediately joined a busy family dental office in Circleville, becoming a partner in record time. This was a great learning experience that taught him a lot about both clinical dentistry and good bed-side manner. In 2016, he was given the incredible opportunity to purchase his own dental office in Powell, one of Central Ohio's finest communities, and while difficult at the time, it proved to be the right decision!
Dr. Eskridge has always been interested in continuing his education and pushing the envelope in new ways. He became one of the earliest dentists in the local area to implement CEREC CAD/CAM technology in 2004 and has since completed thousands of single-visit crowns and dental restorations. He has attended state-of-the-art trainings at prestigious institutions like The Dawson Academy and is also a long-term member of the Northwest Oral Surgery Study Club, which focuses on the restoration of single implants and complex restorative cases. He is currently active in the American Dental Association, Ohio Dental Association, Spectrum Study Club, and Columbus Dental Society.
Outside of the Dental Office, What Do You Like to Do?
Dr. Eskridge is married to Adessa, who works as a registered dental hygienist. They have two beautiful children named Jacob and Elliott Rose. As a family, they spend lots of time playing outside, learning about sports, visiting different state parks, watching movies, and even traveling to Lake Erie often for boating/relaxing at the beach. Their favorite vacation spots are annual summer trips to Maine or the beautiful lakes in Northern Michigan.
As for personal hobbies, Dr. Eskridge likes to bike, exercise, and complete small renovation projects around the house. His family also closely follows Ohio State football/basketball, along with all of the Cleveland professional sports teams!