Invisalign® Clear Braces – Powell, OH
Straighten Your Smile Clearly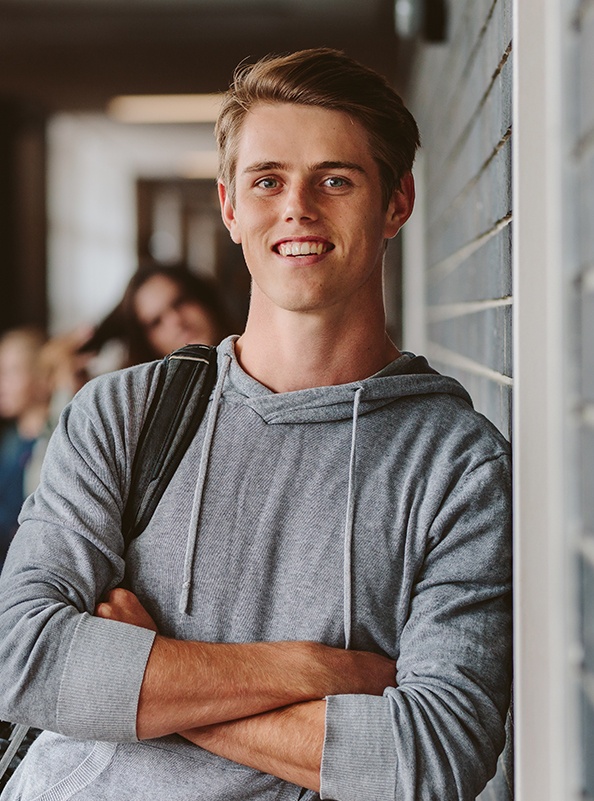 Many teenagers and adults wish they could achieve straighter smiles, but the drawback of wearing noticeable metal braces for years prevents them from getting the smile they desire. Your cosmetic dentist, Dr. Ryan Eskridge, is happy to offer patients a much more sophisticated and aesthetically pleasing alternative: Invisalign clear braces in our Powell, OH dental office. By combining a hundred years of orthodontic science with advanced 3D graphics technology, Invisalign creates the beautiful smile results you've been dreaming of in a virtually indiscernible fashion.
Why Choose Wedgewood Complete Dentistry for Invisalign Clear Braces?
Fully Personalized Treatment Plans
High-Quality Patient Care
A Caring, Knowledgeable Team
How Invisalign Works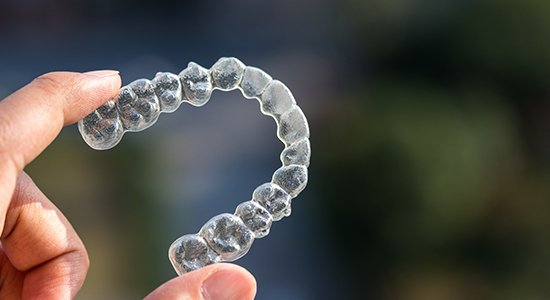 Once we've evaluated your smile and determined that Invisalign is the ideal treatment option for you, we'll send your information to the lab, where professionals will create a sequence of aligners, each of which represents a different stage of your teeth as they move towards their perfect position. All you have to do is wear each set of aligners for about two weeks, only taking them out to eat or practice oral care (brushing and flossing), before switching to the next set. You'll attend brief check-ups every few weeks with our team so that we can determine whether your treatment is progressing smoothly.
Invisalign offers patients countless benefits over traditional braces. The aligners are virtually imperceptible, meaning that your friends and colleagues will only notice the gorgeous results that follow. No inconvenient changes to your diet or oral hygiene are required because the aligners are easily removed. Best of all, treatment can be completed in only 10-18 months!
How to Care for Your Aligners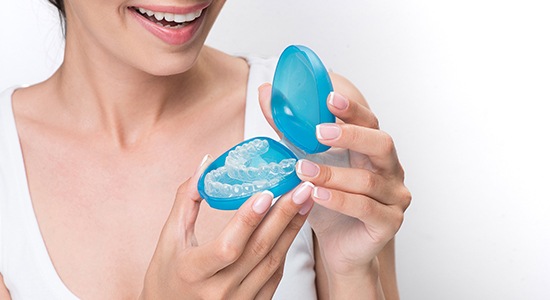 To ensure that your treatment is finished in a timely manner, it's imperative that you take good care of your Invisalign trays. Be sure to rinse them with lukewarm or cold water (hot water can change the shape of the plastic and compromise your treatment) after you take them out and again before you re-insert them. This helps prevent bacterial buildup that results in cavities, gum disease, and bad breath.
Any time you're not wearing your aligners, they should be stored in their protective case. It's unfortunately all too easy to accidentally misplace your aligners if you set them down anywhere else. Clean your trays with a special Invisalign cleanser or clear hand soap at least once a day.
If you do end up damaging or losing one of your aligners, don't hesitate to contact us for prompt repair and/or replacement. In some cases, you can go ahead and advance to the next aligners in the series, but always call us to be sure.
Indications for Invisalign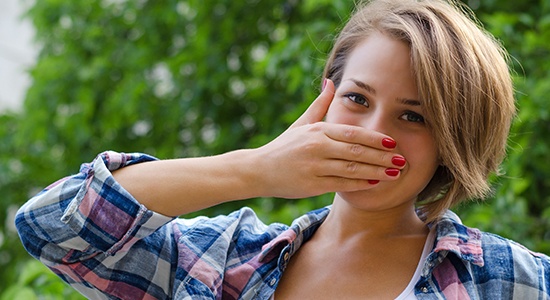 Many adults and older teens have achieved straight smiles thanks to Invisalign's clear trays. This treatment can correct many of the most common orthodontic issues, including:
Crowded teeth
Gapped teeth
Overbite
Underbite
Crossbite
These problems can lead to greater risks of general oral health issues down the line. When your bite doesn't line up properly, for example, you're more likely to grind your teeth, which can lead to accelerated wear and tear as well as fractures. Crowded or unevenly spaced teeth are harder to clean and can trap food particles and bacteria that contribute to infections.
In general, you'll also need to be free of cavities and gum disease before beginning Invisalign treatment. Ultimately, the only surefire way to know whether you're a candidate for Invisalign in Powell is to attend a consultation with Dr. Eskridge.
The Cost of Invisalign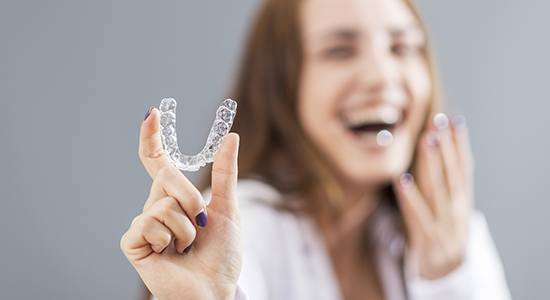 Because each Invisalign treatment is different, the costs can vary greatly from patient to patient. Some of the factors that can affect the price of Invisalign include:
Your age (orthodontic treatment generally takes longer for adults than it does for teens)
How often you wear the aligners
The degree to which your teeth are misaligned
Whether you lose or damage an aligner during treatment
The only way to truly get an idea of how much you'll end up paying is to schedule a consultation. Our team can lay out a personalized treatment timeline as well as provide you with a cost estimate.
Schedule Your Consultation Today!
If you are interested in learning more about Invisalign, including whether you're a candidate for this popular blend of cosmetic and orthodontic treatment, simply request an appointment with us. Dr. Eskridge will be more than happy to take a look at your pearly whites and determine whether Invisalign can help you achieve the beautifully straight smile you deserve.
Invisalign Frequently Asked Questions
Invisalign in Powell is the most convenient and discrete way to get a straighter smile! Since this new process is very different than traditional metal braces, it's natural to have a few questions. For your convenience, we've gathered a few of the most common questions we get about Invisalign below. If you don't see the answer you're looking for, don't hesitate to call us here at Wedgewood Complete Dentistry!
Will Wearing Invisalign Aligners Hurt?
Each Invisalign aligner is crafted out of a smooth, biocompatible plastic. Without any sharp metal wires or brackets to irritate your tongue or cheeks, Invisalign aligners are typically much more comfortable to wear than traditional braces. You'll likely feel a slight amount of soreness when you start a new set of aligners, but any discomfort should naturally subside on its own very quickly. You can also use over-the-counter pain killers and ice to alleviate your symptoms. Many patients find it helpful to start a new set of aligners right before going to bed, which allows them to sleep through any initial discomfort.
How Long Do I Have to Wear My Aligners Every Day?
To stay on track with your Invisalign treatment timeline, you'll need to wear your aligners for at least 20-22 hours a day. You can take them out while eating, brushing your teeth, playing sports, or practicing your woodwind or brass instrument, but they should remain in your mouth otherwise. If you don't wear them long enough each day, your teeth may begin to shift out of place again. Not only will this make wearing your aligners uncomfortable, but it may increase the cost and time of your treatment.
Will the Aligners Change How I Talk?
Invisalign aligners and designed to blend into your everyday lifestyle so you can straighten your smile without hardly anyone knowing. However, you may speak with a slight lisp when you begin the Invisalign process. Your tongue needs to adjust to the presence of your new aligners, which should only take a week or so. To speed up the process, try speaking out loud and repeating words like "sixty" and "Mississippi."
What Foods Should I Avoid While Undergoing Invisalign Treatment?
One of the most popular benefits of Invisalign aligners is that they allow you to continue enjoying all your favorite foods! All you have to do is remove your aligners, enjoy all the popcorn, nuts, apples, and taffy you like, then give your teeth a quick brush before popping them back into place. It's very important that you brush away any lingering food particles and plaque after eating so they don't get trapped in your aligners, which can rapidly cause cavities. You'll also need to remove them before drinking anything that's not water, as other beverages can stain or weaken them.
Can I Get Invisalign If I've Had Metal Braces in the Past?
Many people who get metal braces early in life find themselves with crooked teeth again years later, especially if they neglected to wear their retainer. Thankfully, Invisalign is a great choice for almost anyone with misaligned teeth, including those who have previously worn metal braces. However, each case is unique, so your Powell dentist will closely investigate your teeth, jaw, and bite to ensure that Invisalign is a good choice for you.