Dentures - Powell, OH
Replace Any Number of Missing Teeth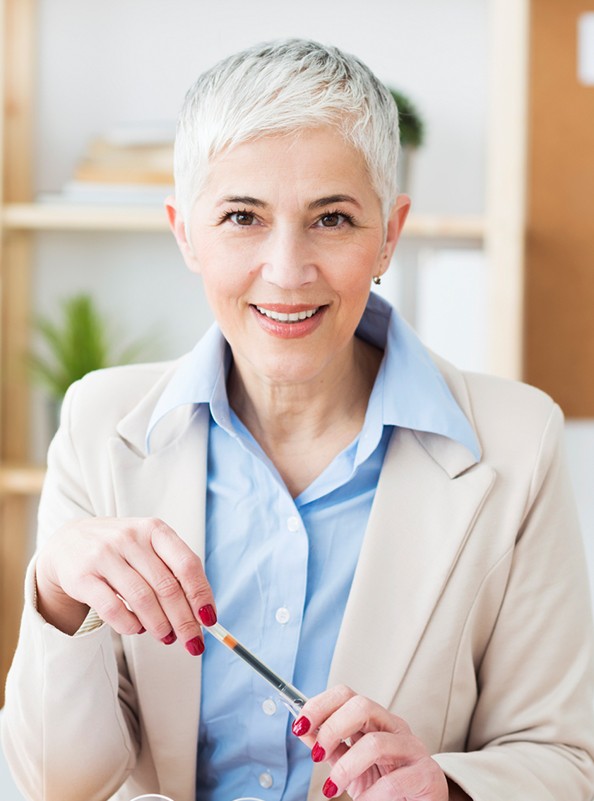 Whether your tooth loss consists of a single gap in your smile or an entire row of teeth, the need for replacement is vital to your oral health, your general health and your overall well-being. We know your first concern is probably the way your smile looks because that can have a lot to do with your sense of self-confidence. Beyond that, however, there are very real health concerns, too. At Wedgwood Complete Dentistry, we offer dentures in Powell, OH, so you can once again have a complete smile that is as beautiful as it is functional. Depending on the extent of tooth loss you have, our dentists can talk to you about a partial or full denture, as well as implant-supported dentures.
Why Choose Wedgewood Complete Dentistry for Dentures?
Implants Placed and Restored In-House
Carefully Personalized Full and Partial Dentures
A Skilled, Knowledgeable, Caring Dentist
The Consequences of Tooth Loss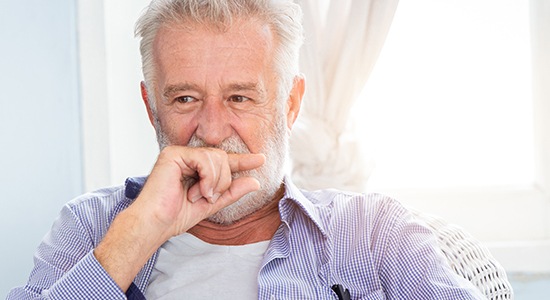 For most people, the appearance of a missing tooth is enough to convince them to see the dentist in Powell for dentures. But did you also know that just a single missing tooth increases the likelihood of cavities in your remaining teeth as well as the odds that you'll develop gum disease? In addition, missing teeth often lead to bite problems as other teeth shift to take up the vacant spaces. Last but not least, each and every tooth in your mouth has a vital role to play in chewing and digestion. Consequently, tooth loss can inadvertently cause varying degrees of malnutrition.
Types of Dentures in Powell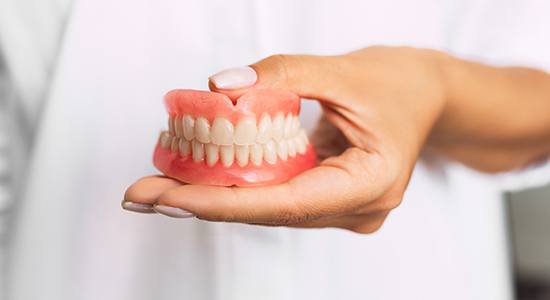 Now that we've established the importance of replacing missing teeth, let's take a look at the types of dentures available. The right one will surely make you smile!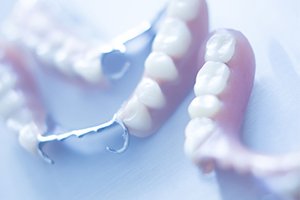 Partial Dentures
Partial dentures are a type of prosthetic that can be ideal for the patient who is missing one or two teeth. Even if your missing teeth are not consecutive, we can still design a single partial denture that fits between remaining teeth. The partial consists of false teeth attached to a metal frame. Clips on the frame hook around adjacent teeth to hold the partial in place.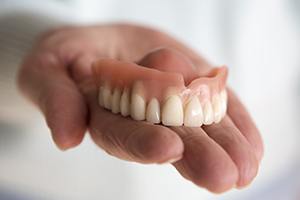 Full Dentures
Full dentures today are not like grandma's. Thanks to new materials and advances in prosthetic production, your dentures will look like natural teeth and feel comfortable and secure in your mouth. Our dentists take precise measurements to ensure your complete satisfaction. Give yourself a few weeks to adjust to how dentures feel and in short time you'll hardly notice them.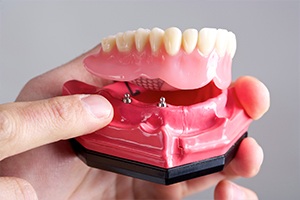 Dental Implant-Supported Dentures
If you really want to have dentures that are natural looking and secure, then consider implant-supported dentures. Dental implants that are surgically implanted along your jaw hold the dentures in place. You can select permanent dentures or overdentures that you remove to clean and soak every night.