Teeth Whitening in Powell, OH
Brighten Your Smile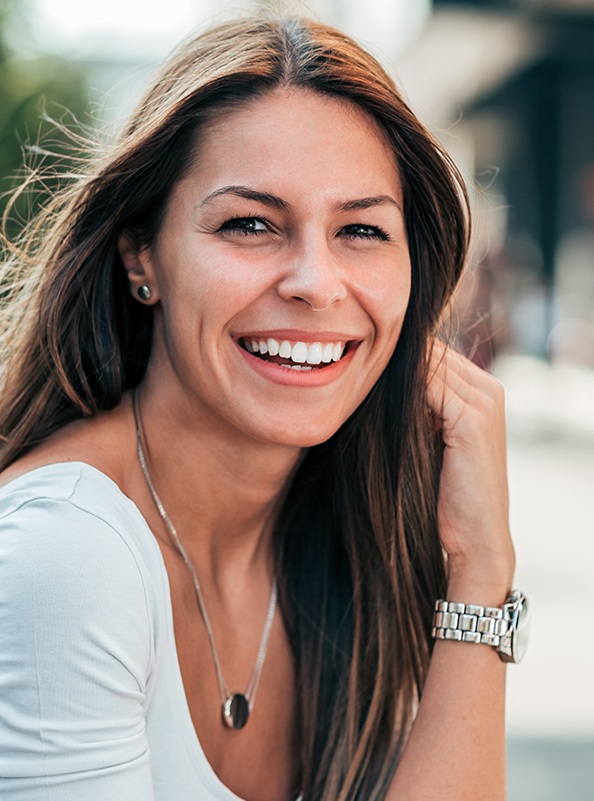 Your smile says a lot about you. It can tell a potential friend that you're welcoming and kind. A smile can put a scared child at ease. Your smile may impact whether or not you receive that big promotion at work. In fact, smiling more often may mean you live longer and feel happier. When something has that much impact on your life, it's important to feel confident that you have the best possible smile to share. That's where investing in cosmetic dentistry solutions like teeth whitening in Powell, OH can make a huge difference. If you know your smile is beautiful, you'll be more likely to smile, more confident in interactions, and make great first impressions. At Wedgewood Complete Dentistry, our Powell dentist and team offer professional teeth whitening solutions that deliver flawless smiles up to ten shades brighter.
Why Choose Wedgewood Complete Dentistry for Teeth Whitening?
In-Office and At-Home Whitening Solutions
Oversight from a Talented, Experienced Dentist
A Highly Trained and Caring Dental Staff
What Causes Dental Staining?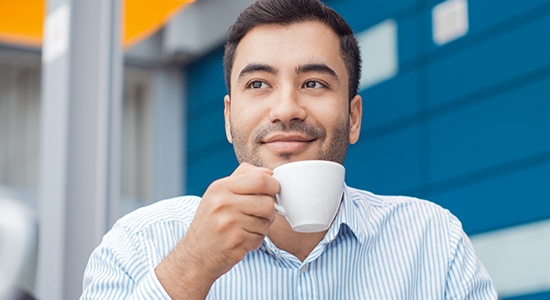 The key to ensuring teeth whitening works is understanding how the dental staining occurred in the first place, so before we recommend a tooth whitening option, we'll want to determine the underlying cause of discoloration. Some common reasons patients have stained or discolored teeth include:
Consuming dark foods and beverages - if it will stain a white shirt it will stain your teeth
Thinning tooth enamel - reveals the yellow-colored dentin layer below making teeth appear darker or take on a yellow hue
Fluorosis - ingesting too much fluoride as a child causes teeth to develop with brighter white spots on them
Genetic predisposition - some people simply have a more darkly colored enamel
Aging - as we age, the enamel wears away and teeth look darker or yellow
How Does Teeth Whitening Work?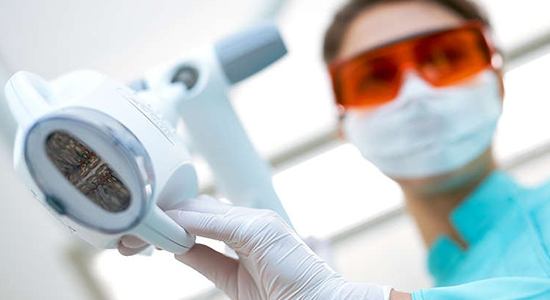 Teeth whitening, even the most advanced professional solutions, only address a certain kind of dental discoloration. When teeth are stained, whitening agents can be applied to remove those stains. Most whitening products use either hydrogen or carbamide peroxide. When applied correctly, this stain remover will seep into the porous surfaces of teeth and lift out stains, leaving patients with white smiles. Other causes of discoloration like aging and fluorosis may need to be addressed using a different cosmetic dentistry option like porcelain veneers or direct bonding.
What Teeth Whitening Solutions are Available?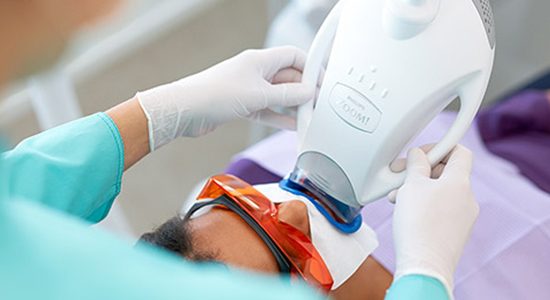 If we determine teeth whitening is a good solution to your dental discoloration, we will need to decide which of the following types of teeth whitening is your best option:
In-Office Teeth Whitening - this offers the fastest results, usually completed in about an hour. The dentist will be present for the entire process, so you'll know the treatment is working. Patients typically see smiles as much as ten shades brighter in just one appointment. However, the highly concentrated dose of whitening agent can lead to tooth sensitivity following treatment.
At-Home Teeth Whitening - reduces dental sensitivity, and it can deliver the same results possible with in-office teeth whitening over the course of about two weeks of application. Custom application trays and professional doses of whitening agent ensure the efficacy of this solution. At-home whitening kits also serve as great ways to touch up the effects of in-office whitening.
Store Bought Whitening Kits - there are a variety of options available, and they can provide some improvement for patients with only minor, surface-level tooth stains. Because saliva can quickly neutralize the low dose of whitening agents, store-bought kits are not very effective for most people.
Are There Benefits to Teeth Whitening?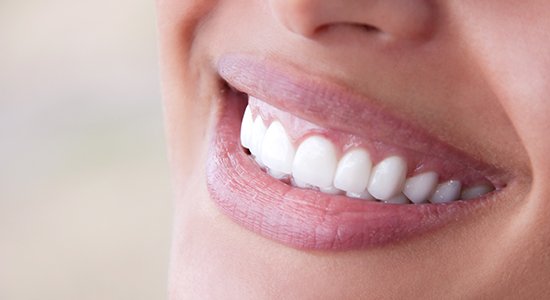 We've already addressed a few of the benefits, but some of the reasons patients say they invested in teeth whitening and other cosmetic dentistry solutions include:
Confidence boosting - patients report feeling better about their appearance and being more confident while interacting with others in personal and professional situations
Improved oral health - patients who like the look of their smile are more likely to take the necessary time to care for their teeth, which leads to improved oral hygiene
Better first impressions - studies indicate that a beautiful smile makes you more likely to be hired for a job or asked out on a date, so bright smiles mean great first impressions
Teeth Whitening Frequently Asked Questions
If you're ready to reveal a brighter smile, you might be a candidate for teeth whitening in Powell. Although you're excited to give your confidence a boost, we know you still have a few concerns before committing to the treatment. We'll explain everything during your initial consultation. While you wait for your visit, here are the answers to a few of the most common questions patients ask us about teeth whitening.
Should I get a dental cleaning before teeth whitening?
Your cosmetic dentist in Powell will recommend a dental cleaning before your whitening treatment. Teeth whitening provides the best results when they are free of plaque and tartar. You can save time while on your journey to a brighter smile by maintaining your semi-annual appointments for a cleaning and checkup. If it has been a while since your last preventive visit, we can often perform both the cleaning and whitening procedure the same day.
Will whitening my teeth damage my enamel?
You might have heard rumors about whitening treatments causing irreversible damage to enamel; however, this is largely untrue if you choose a qualified dentist. Teeth whitening is safe and effective when performed under the supervision of a dentist in Powell. It's also best to only use reputable whitening products to prevent any unnecessary complications to your teeth or roots.
Do whitening treatments cause sensitivity?
Since whitening treatments don't damage your enamel, you won't need to worry about any lasting sensitivity. The whitening agents are specially formulated to preserve your enamel while providing maximum results. If you experience sensitivity after your treatment, your discomfort won't last. It will subside within a couple of days. If you're prone to sensitivity, we might recommend using a special toothpaste before and after your procedure to minimize any pain.
How much do teeth whitening systems cost?
There isn't a set fee for teeth whitening because the cost is based on your specific plan. While you can save money using an OTC product, you won't achieve the results you want. If you're worried about a large bill, you don't have anything to fear. Professional whitening systems are more affordable than you might realize. We'll provide you with a personalized estimate during your initial consultation and discuss the expenses related to your plan. A member of our team will take the time to explain your payment options.
Although every insurance policy is unique, most dental plans don't cover whitening treatments because they are elective. There are still many ways to keep a bright smile within your budget, like third-party financing. You are given the funds you need, so you can whiten your teeth without breaking the bank.
Where is a dentist near me for teeth whitening?
Wedgewood Complete Dentistry provides state-of-the-art services to help our patients achieve their best smiles. Dr. Eskridge completed advanced training at many prestigious institutes after earning his dental degree, like The Dawson Academy. He can get your teeth as much as 8 shades brighter using an individualized treatment plan.