January 4, 2021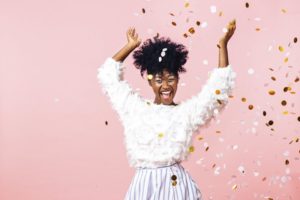 Now that it's January, it's time for a new year and a new you. Committing yourself to a New Year's resolution or two is a great way to live your best life in 2021. If you're looking for an easy but meaningful way to improve yourself this year, why not start with your smile? After all, better oral health can lead to better confidence, health, and quality of life! Here are four easy New Year's resolutions for a healthier smile that could change your life this year.
1.) Get Two Dental Checkups This Year
If you've been putting your dental checkups and cleanings on the backburner, now is the time to change that! Make it your goal this year (and every year following) to visit your Powell dentist twice. Even if your teeth look and feel fine, a simple checkup can prevent serious oral health issues and save you a significant amount of time and money in the future!
2.) Learn to Love Flossing
Even though it's common knowledge that flossing is important, many of us avoid it because we don't like to or simply forget. However, toothbrushing alone only removes about 60% of plaque and bacteria from your mouth! The rest can only be cleaned away with flossing, so it's essential that you make this healthy habit a priority. Try keeping your floss somewhere you'll see it every time you brush your teeth and leave yourself reminders. To make flossing easier or more exciting, consider investing in high-quality waxed floss, fun-flavored floss, pre-threaded flossers, or interdental brushes.
3.) Eat More Smile-Friendly Foods
Eating healthier is a popular New Year's resolution. This lifestyle change won't just help you lose weight and lower your risk of cavities either—choosing more smile-friendly foods can dramatically boost your oral health! Eating more low-fat dairy products, lean proteins, and foods that are high in vitamin C can go a long way in strengthening your teeth and keeping gum disease at bay.
4.) Break Bad Chewing Habits
Do you sometimes use your teeth to open packages, containers, bottles, or bags? Do you occasionally chew on pen caps, ice, or your fingernails? These bad chewing habits are very common, and many people don't think twice about them. However, these actions significantly wear down your enamel and could easily leave you with a chipped or broken tooth! This year, make a resolution to break these bad chewing habits to keep your smile safe and intact.
The best New Year's resolutions use reasonable habits to reach achievable goals that improve your daily life. If you adopt some or all these New Year's resolutions, your smile and health will thank you in the long run!
About the Author
Dr. Ryan Eskridge of Wedgewood Complete Dentistry is committed to helping the smiles of Powell and the surrounding communities get the happy, healthy, and beautiful smiles they deserve. That's why he offers a wide range of dentalcare services all under the same roof of his state-of-the-art office. He's also pleased to offer an in-house wellness program focused on preventive care to make caring for your oral health as easy and affordable as possible. To learn more, he can be contacted via his website or at (614) 792-0063.
Comments Off

on 4 Easy New Year's Resolutions for a Healthier Smile
No Comments
No comments yet.
RSS feed for comments on this post.
Sorry, the comment form is closed at this time.