June 17, 2020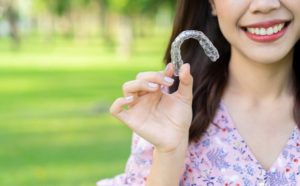 The warm and sunny months of summer are finally here. It's a great time to hang out by the pool, enjoy family barbeques, and… fix your crooked teeth? While orthodontic treatment may not be the first thing that comes to mind, summer is the perfect season to start straightening your smile! Here are seven reasons why now is the best time to get Invisalign in Powell.
1.) Appointment Flexibility
Now that the busy school year is over and you have a little more time off of work, you'll likely have more flexibility to schedule an appointment with your dentist for your consultation and checkups.
2.) Relaxing Adjustment Period
Invisalign aligners are easy to wear, but just like any orthodontic treatment, it takes a little while for your mouth to adjust to them. Getting use to your new aligners will be a lot more relaxing now than later during winter holidays and the new school year.
3.) More Time for Hygiene
Summer is a stress-free time to get used to your new daily dental routine as well. Instead of rushing through your brushing and flossing, you can take the time to properly care for your aligners.
4.) Keep Eating Your Favorite Summer Foods
Straightening your smile this time of year doesn't mean you have to give up all your favorite barbeque meals! Invisalign aligners are removable, so you can enjoy all the steak, corn on the cob, and candy apples you want. Just be sure to give your teeth a quick brush before popping your aligners back in!
5.) Your Summer Photos Will Look Great
Invisalign aligners are nearly invisible, which means you can still smile confidently even while wearing them. You won't have to worry about showing off a mouth full of metal during the pictures you take on vacation, by the pool, or any other fun summer memories.
6.) Traveling with Invisalign Is Easy
Sometimes summer can be busy. If you're planning on traveling this time of year, its easy to take your aligners with you and keep them clean wherever you go. Just try to be back home every two to four weeks so you can visit your dentist for a checkup and get your next set of aligners.
7.) Have a Great Smile for the Holidays
Teeth need to be slowly moved into place for the results to last, so your treatment will take several months depending on your situation. However, starting your journey towards straighter teeth now means that you may be ready to show off your new smile just in time for the winter holidays.
If you're considering Invisalign in Powell, now is the perfect time to start! Talk to your dentist today to see if this modern orthodontic treatment is right for you.
About the Author
Ryan Eskridge of Wedgewood Complete Dentistry in Powell, OH has been helping his patients achieve optimal oral health for over 14 years now. He is a member of numerous prestigious organizations including the American Dental Association and the American Academy of Cosmetic Dentistry. He has also completed additional training in order to become a certified Invisalign provider. If you'd like to learn more about straightening your smile with Invisalign, feel free to contact him via his website or at (614) 792-0063.
Comments Off

on 7 Reasons Why Summer Is the Best Time to Start Invisalign
No Comments
No comments yet.
RSS feed for comments on this post.
Sorry, the comment form is closed at this time.