October 21, 2022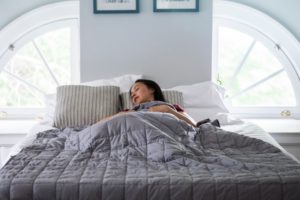 Weighted blankets busted into the mainstream by being featured on social media, TV, and more in 2017. They were featured as a solution for anxiety, ADHD, and stress, helping people rest under their comforting, hug-like pressure. However, research shows that they could even help more people, including those with sleep apnea. Read on to find out how weighted blankets work and what benefits they offer to those with sleep conditions.
How Do Weighted Blankets Work?
Weighted blankets come in different weights depending on your body weight, the ideal ratio is that the weight in the blanket should be about 10% of your body weight. This is for safety reasons as well as to achieve the optimal night of sleep. Many people describe weighted blankets as feeling like a gentle hug all over the body since they evenly disperse their weight. This creates a deep and calming sensation, which can also help you fall asleep faster and reawaken less frequently.
Can Weighted Blankets Help Improve Your Quality of Rest?
A study published in 2015 examined the effects that sleeping with a weighted blanket had on people, finding that 33 percent experienced reduced stress and 63 percent reported decreased anxiety. In addition to these positive effects, weighted blankets can stimulate hormone changes that can positively impact your sleep, especially if you experience restlessness as a result of sleep apnea.
May Stimulate Oxytocin. Oxytocin is associated with feelings of attachment and closeness, which makes sense why weighted blankets can help stimulate the production of this calming hormone. Not only can it put the mind at-ease, but it can also help regulate your sleep cycle, as it typically peaks during longer periods of deep sleep.
Can Decrease Cortisol. Cortisol is a hormone produced when your body responds to stress, which can make it harder to fall and stay asleep if you're producing it while you're trying to rest. Sleeping with a weighted blanket can help decrease your body's production of cortisol, allowing you to rest a little easier.
Can Increase Serotonin. Serotonin is also referred to as the "feel good" hormone because it helps you feel stabilized, regulated, and relaxed. Studies show that a lack of this hormone can lead to anxiety and depression, and even disrupted circadian rhythms that can affect your sleep routine. Weighted blankets can help increase your body's serotonin production and improve your quality of rest.
While weighted blankets are in no way an alternative to sleep apnea therapy, when used in conjunction with an oral appliance or CPAP machine, you may be able to achieve a more peaceful night of sleep!
About the Author
Dr. Ryan Eskridge has over two decades of experience providing high-quality dentistry to patients to improve their quality of life. He has completed countless hours of additional training in different specialties, allowing him to offer a variety of procedures, including sleep apnea therapy. He also utilizes the latest technology in his practice, including a digital impression system to make perfectly fitted oral appliances. For questions or to schedule a consultation for sleep apnea therapy, visit Wedgewood Complete Dentistry's website or call 614-792-0063.
Comments Off

on Can Weighted Blankets Help with Sleep Apnea?
No Comments
No comments yet.
RSS feed for comments on this post.
Sorry, the comment form is closed at this time.