May 11, 2021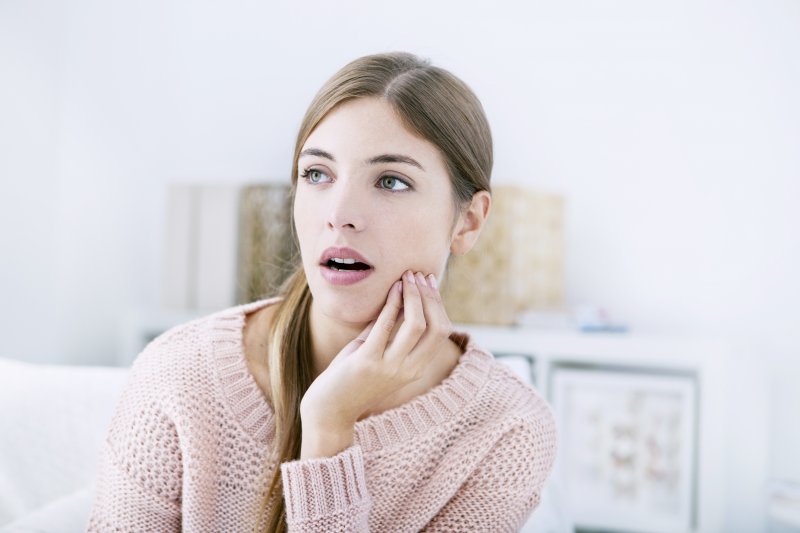 How much do you really know about temporomandibular joint disorders, or TMDs? Many people know that they're a source of a jaw pain, but there are plenty of misconceptions about the condition that can lead to problems when seeking treatment. If you want to find lasting relief, then you need to understand your TMD as thoroughly as possible. In this post, you'll find the facts behind 5 common TMD myths.
Myth 1: TMJ and TMD are the Same Thing
Many people use the abbreviations "TMJ" and "TMD" interchangeably, but they mean very different things. TMJ is short for "temporomandibular joint", while TMD is short for "temporomandibular joint disorder." In other words, TMJ is the name for the joints that control your jaw while TMD is the name for the health condition causing your pain. It's important to understand this distinction when speaking with your dentist about treatment.
Myth 2: TMD is Very Rare
TMD might not get the same attention as other health conditions, but that doesn't mean it isn't widespread. There are about 35 million people in the United States who are suffering from TMD in one form or the other, and about 10% of the global population has it. While the condition is most common among women and adults between the ages of 20 and 40, anyone can experience it.
Myth 3: TMD is Always Caused by Some Kind of Injury
It's true that a lot of TMDs are the result of a blow to the jaw or another kind of accident, but that's not the only way they can develop. Some are a side effect of a misaligned bite where the upper and lower jaws don't meet when your mouth is closed, while others are caused by the stress of grinding your teeth together. In short, TMD isn't always linked to severe trauma.
Myth 4: TMD Requires Surgery
When people here that TMD is a problem with the jaw joint, they assume that surgery is involved in the treatment. This is only a last resort, however; surgery is usually reserved for when the problem is caused by a jaw defect that must be corrected. In many cases, a TMD can be treated with an oral appliance.
Myth 5: TMD is Nothing Serious
While it's true that TMD-related deaths are rare, there are a number of serious health problems linked to it, such as sleep disorders, bruxism (which can cause the teeth to crack eventually), neck pain, poor nutrition due to chewing difficulties, and a weakened immune system (as a result of the issues linked to sleep and nutrition).
If you suspect that your jaw or head pain is linked to a TMD, you shouldn't leave anything to chance. Call your dentist right away for a TMD consultation; they'll be able to answer your questions and clear up any doubts you have. Don't let the myths around TMD keep you from stopping your chronic discomfort.
About the Author
Dr. Ryan Eskridge has spent nearly two full decades helping patients at Wedgewood Complete Dentistry, and he's just as in love with dentistry today as he was when he started. He has always been interested in continuing his education and has attended state-of-the-art trainings at The Dawson Academy and other institutions. If you suspect you have TMD, you can schedule a consultation by visiting his website or calling (614) 792-0063.
Comments Off

on 5 Myths About TMD That You Shouldn't Believe
No Comments
No comments yet.
RSS feed for comments on this post.
Sorry, the comment form is closed at this time.