December 5, 2016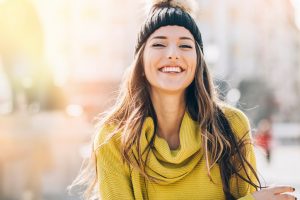 How and how often you smile affects your health, self-image and interpersonal relationships, says the Academy of Cosmetic Dentistry. This well-respected group of dental care providers focuses on the aesthetics of teeth and gums so patients look good and feel good. Cosmetic dentists in Powell, Drs. Ryan Eskridge and Norman Straker, offer a wide array of dental treatments and restorative services that also produce a dramatic aesthetic effect. Could you benefit from their services?
Desired Smile Changes
If you could change something about the appearance of your smile, what would it be? Would it be:
Uneven tooth length?
Excess gum tissue?
Crookedness?
Tooth color?
Chips, cracks and gaps?
Congenital malformation of a tooth or teeth?
For many people, just one or a few simple changes really improve their look and self-image. As a result, they smile more confidently and are better perceived in social and professional situations. Others desire a complete smile makeover, including some dental work which combines the best of restorative and cosmetic dentistry.
The Consultation
Dr. Eskridge or Dr. Straker does a complete oral examination with digital X-rays before recommending any cosmetic dentistry procedures. If all is well, he will formulate a treatment plan which incorporates the patient's realistic ideas for his or her new smile.
Procedures may be carried out singly or combined according to patient budget and preference. Some treatments, such as teeth whitening, take just one visit.
Featured Services at Wedgewood Complete Dentistry
Zoom! Whitening and at-home teeth whitening in Powell improves tooth color by several shades. The in-office version takes just about an hour. Both use concentrated hydrogen peroxide gel to safely bleach stains from smoking, food, beverages and other factors.
Porcelain veneers cover defects such as deep stains, chips, cracks and gaps. Often called "instant orthodontics," these tooth-shaped laminates are custom-crafted as permanent refurbishments to healthy teeth. Consultation, fabrication and placement takes two to three visits to the dental office.
Invisalign clear aligners in Powell improve the aesthetics of crooked smiles and also move teeth into healthier positions. Accomplished with 18 to 30 pairs of invisible aligners, this orthodontic system takes far less time than traditional braces. Aligners are smooth, comfortable and removable for meals, brushing and special events.
Tooth-colored fillings replace old, dark amalgam fillings. Strong and color-matched to blend in with natural enamel, composite resin fillings require less tooth preparation than traditional fillings. And, they repair teeth seamlessly, combining restoration with great smile aesthetics.
CEREC same-day crowns, inlays and onlays restore decayed or injured teeth in just one visit. Manufactured chairside from 100 percent porcelain, CEREC restorations beautify, protect and strengthen teeth without the gooey impressions, temporaries and long wait times of traditional restorations.
Learn More
If you desire the benefits of an attractive smile that reflects the real you, contact Wedgewood Complete Dentistry for a cosmetic dentistry consultation. The dentists will answer all your questions and help you choose your new look!
Comments Off

on Cosmetic Dentist in Powell Improves Looks and Self-image
No Comments
No comments yet.
RSS feed for comments on this post.
Sorry, the comment form is closed at this time.