April 26, 2017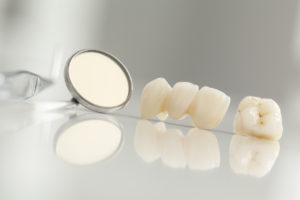 You know how painful it can be to have a weak tooth in your smile. Imagine tons of sensitivity and uneasiness every time you attempt to enjoy your food. It's not fun. What's even worse is waiting days—even weeks at a time—for a dental crown to help re-stabilize your tooth. Luckily, your dentist in Powell has invested into Wedgewood Complete Dentistry with CEREC technology. Our innovative office is able to completely change the way we approach restorative and cosmetic dentistry by placing dental crowns in one single appointment. Since this is a new, revolutionary part of dentistry, you may have some questions. We're happy to address them for you.
Does CEREC technology really take just one day to create restorations?
Believe it or not, "same-day dental crown" in Powell is actually a very accurate title. In reality, the whole process of creating a dental crown in our office takes about an hour from beginning to end. We are able to eliminate the need for messy impression materials. Our patients also don't have to wear temporary dental crowns until the lab sends back their permanent restorations. When you leave our office, your whole dental procedure will be complete.
What are CEREC dental crowns made of?
Instead of using metal materials, all of our CEREC dental crowns are created with a tooth-colored porcelain material that's metal-free, biocompatible, and plaque-resistant. You don't have to worry about your dental restoration sticking out from the rest of your smile like a sore thumb. Your dental crown will blend seamlessly amongst your natural teeth.
How long do CEREC dental crowns last?
Our CEREC porcelain dental crowns are created to last at least 10 to 15 years with the proper care. Patients have reported that they've lost over 30 years! It's important to protect your crowns from excessive teeth clenching, grinding, and eventually cracking. Patients who routinely grind or clench their teeth may find that they're restorations don't last as long without a custom mouthguard.
Why would I need a CEREC dental crown?
There are different situations where our dental professionals will recommend CEREC dental crowns. Since dental crowns are a protective cap, Wedgewood Complete Dentistry may recommend a dental crown if:
You just had a root canal.
You cracked or broke a tooth.
You have severe tooth decay.
You need a large filling.
You just had a dental implant installed.
A dental bridge needs to be supported.
How can I get my same-day dental crown?
Don't put off regaining a whole, healthy, and functional smile too much longer! Contact our dental office today to receive the care you need in a quick, convenient way. If you have any questions about CEREC technology, call us!
Comments Off

on Your Dentist in Powell Provides Quick Dental Care with CEREC
No Comments
No comments yet.
RSS feed for comments on this post.
Sorry, the comment form is closed at this time.