December 18, 2017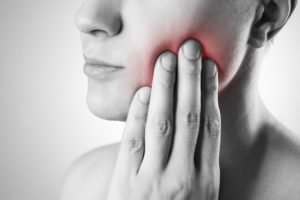 Waking up to jaw pain is the last way you want to start your morning. "I don't have time to visit a dentist." You think. "I can't miss more work because of a toothache." However, what you may think is just a simple toothache that will go away on its own is actually pain resulting from TMJ disorder.
Fortunately, your dentist in Powell is all too familiar with this. That's why their recommending Invisalign to reduce your jaw pain. How do clear aligners connect to TMJ? Keep reading to learn how.
TMJ and Your Source of Pain
If you find yourself waking up to pain in the morning often, it's likely you're grinding or clenching your teeth while sleeping. This is also known as TMJ disorder, a condition commonly caused by jaw misalignment. While the short-term side effects of TMJD include pain and soreness in the joint and facial muscles, the long-term effects could be even worse.
Sleep bruxism also causes your enamel to erode, your teeth to crack, and even your gums to start receding, exposing them to elements they aren't used to. The best way to avoid these long-term effects is by correcting this misalignment in your jaw. That's where clear aligners come in.
How Invisalign Corrects Your Bite
Invisalign's treatment is not exclusive to crooked or gapped teeth. It can also correct common bite problems that cause pain from TMJ disorder. Once your alignment is corrected, it will also start to change how your muscles act when you grind your teeth.
Your dentist will provide you with a set of trays from Invisalign in Powell that you wear over the course of several months. As long as you wear them as directed, only removing to eat and brush regularly, you'll have a healthier bite and reduce the pain resulting from TMJD. You'll also reap the benefits that come with Invisalign compared to traditional realignment methods.
How Invisalign Compares to Traditional Braces
Compared to traditional metal braces that are cemented onto your teeth, Invisalign's clear aligners are removable. This makes maintaining a healthy mouth significantly easier without having to manage new mouth hardware. Food often gets stuck in metal braces, so clear aligners remove that burden.
You'll also be able to accomplish realigning your bite in less time compared to metal braces. Treatment via clear aligners usually takes up to a year to complete while braces can take multiple years. Plus, if you have a professional image you'd like to uphold, Invisalign hides the fact that you're undergoing realignment treatment.
Don't let chronic jaw pain make your mornings sour. Visit your dentist in Powell today to see how Invisalign can fix your TMJ pain!
About the Author
Dr. Ryan Eskridge, DDS, attended John Carroll University for his undergraduate work followed by The Ohio State University College of Dentistry to earn his dental degree. He's also a graduate of the Dawson Academy, which teaches dentists to provide complete care dentistry. He's a certified Invisalign provider and has studied the treatment process for TMJ disorder. To learn more about this practice, contact him at (614) 792-0063 or visit his website.
Comments Off

on Your Dentist in Powell Can Treat TMJ Pain with Invisalign
No Comments
No comments yet.
RSS feed for comments on this post.
Sorry, the comment form is closed at this time.