February 27, 2017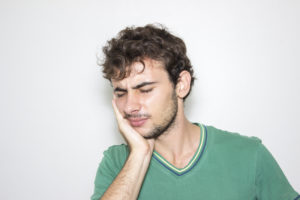 Your headaches are more than an occasional nuisance. They really hurt and are impacting your daily life. You wonder what can help. Your headaches could be related to TMJ Disorder, a common problem of the jaw joint under the ear. Used to open and close the mouth, the temporomandibular joint sometimes malfunctions, causing many symptoms which health care providers once thought were imagined. Your dentists in Powell, Dr. Ryan Eskridge and Dr. Norman Straker, offer real solutions for TMJ Disorder, giving patients much needed relief.
What is TMJ Disorder?
The temporomandibular joint, or TMJ. is the hinge-like joint located at the angle of the jaw at either side of the head. Problems with the movement of this joint, also known as TMJ Disorder, often cause distressing symptoms such as:
Ear pain
Painful, recurring headaches
Neck, back and shoulder pain
A popping or clicking noise coming from the jaw
Uneven wearing of tooth enamel
Tinnitus, a buzzing, hissing or ringing sound
Vertigo, or dizziness
In addition, the jaw joint itself can dislocate as the ball-like condyle moves forward out of the temporomandibular joint and jams in front of the articular eminence of the jaw bone. This upsetting and painful condition prevents a person from closing his mouth and requires an immediate visit to the primary care physician or to the nearest hospital emergency room. These doctors can move the jaw downward and backward into its functional position.
Treatment of TMJ Disorder
Any treatment approach for TMJ Disorder requires a thorough analysis by a skilled dentist or oral surgeon. He will take digital X-rays to reveal the structure and function of the jaw joint.
Common treatments for TMJ dysfunction include:
Muscle relaxants
Medications to tighten loose connective tissue around the jaw joint
Over the counter ibuprofen or acetaminophen to relieve pain
Surgery
Orthodontic correction of poorly aligned teeth (braces or clear aligners such as Invisalign)
Dental crowns to even out how teeth bite together
In addition, Dr. Eskridge and Dr. Straker often prescribe custom-made bite guards as TMJ therapy in their Powell office. These acrylic guards correct the bite problems associated with TMJ disorder,  providing cushioning relief and alleviating destructive clenching and grinding (bruxism).
Find out More About TMJ Disorder
The National Institute of Dental and Craniofacial Research says that about 10 million adults in the United States alone have TMJ Disorder to one degree or other. Are you one of them?
Don't suffer with headaches or other symptoms, and don't allow your oral function to deteriorate. Please contact the dedicated team at Wedgewood Complete Dentistry for a thorough evaluation. The professional team has great success in dealing with TMJ Disorder. They can find a solution to your TMJ symptoms, including those recurring headaches. Why not get relief and enjoy your life again?
Comments Off

on Your Dentist In Powell Explains How Headaches & Jaw Pain Are Related
No Comments
No comments yet.
RSS feed for comments on this post.
Sorry, the comment form is closed at this time.