June 19, 2017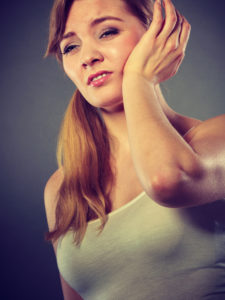 Your jaw is becoming a pain in the neck – literally. The constant clicking, tenderness when you chew, and pain that radiates all the way around your neck and down your shoulders, are constant and troubling. You see your dentist in Powell for help and get diagnosed with TMJ dysfunction. Finally, with the help of the team at Wedgewood Complete Dentistry, you get the pain relief you need, and the solution to the underlying jaw problem.
What Is TMJD?
Problems with the temporo-mandibular joint – the hinge joint that connects your lower jaw to your skull – are known as TMJ dysfunction on TMJD. These issues can include popping, clicking, pain, or the jaw becoming stuck in an open or closed position.
What Are The Symptoms Of TMJD?
TMJD can include the following symptoms:
Pain, tenderness, aching, or fatigue in your jaw
Pain in the face, neck, shoulders or earaches
Discomfort when chewing, speaking, or opening your mouth wide
The jaw becomes stuck in an open or closed-mouth position
Clicking, popping, grating noises that come from your jaw
Tiredness in your facial muscles
Difficulty chewing
Painful changes I your bite or the way your teeth fit together
Swelling on the side of your face
What Causes TMJD?
There are a handful of issues that contribute to TMJ dysfunction, including:
Anxiety and stress
Grinding or clenching your teeth, even while asleep
Whiplash (usually from a car accident)
Trauma or injury to your jaw
Movement of the disc in between your temporo-mandibular joint
Obstructive sleep apnea
How Can Wedgewood Complete Dentistry Help With My TMJD?
Dr. Ryan Eskridge and Dr. Norman Straker offer many different courses of TMJD treatment to provide you with the relief you deserve. We'll always start by addressing the pain, performing a thorough examination, and determine the cause of your TMJD. We have the following options available:
Customized mouthguards to prevent grinding at night (bruxism)
Bite-adjustment procedures
Restorative treatment
Orthodontics like Invisalign
Referral for anxiety treatment and stress management techniques
What Can I Do To Prevent TMJD?
One of the primary causes of TMJD is chronic stress. Be sure to let go of tension by exercising at least three times a week for thirty minutes a day, and step out of your comfort zone by trying breathing exercises, yoga classes, or meditation techniques to melt stress away. If your anxiety persists, be honest. Talk with our dentists or your doctor since treatment is safe and effective, and since this condition is remarkably common – about 40 million people are affected by anxiety disorders, including stars like Oprah, Emma Stone, and John Mayer. There's nothing to be ashamed about, and we're always here to help.
Now that you know what TMJD is and what Wedgewood Complete Dentistry can do to help, schedule your appointment to get the relief you deserve!
Comments Off

on Your Dentist In Powell Explains TMJ Dysfunction & Jaw Pain
No Comments
No comments yet.
RSS feed for comments on this post.
Sorry, the comment form is closed at this time.