August 8, 2016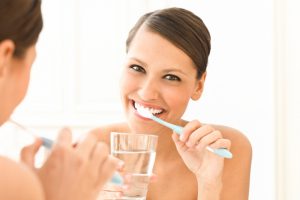 If you are one of the millions of Americans suffering from gum disease, you should seek prompt attention to avoid tooth loss and the host of other diseases associated with periodontitis. Early treatment can help you avoid more complex surgical procedures later on. Your dentist in Powell, Dr. Ryan Eskridge, provides non-surgical periodontal therapy. Learn more about how scaling and root planing can restore your gum health in a few visits to Wedgewood Complete Dentistry.
Signs You Need Periodontal Therapy
Are you dealing with the symptoms of gum disease? Approximately half of American adults over the age of 35 exhibit signs of the condition — so chances are high that you may have gum disease, too. Schedule an appointment with your dentist if you are experiencing any of the following symptoms of periodontal disease.
Persistent bad breath

Sensitive teeth

Bad taste in the mouth

Gum recession

Red, tender, swollen gums

Gums that bleed

Loose teeth
The risk factors for gum disease include age (people older than 35), tobacco use, poor dental hygiene, and certain medications that cause dry mouth. Diseases that affect the immune system, like diabetes and HIV/AIDS, also contribute to the development of periodontal disease. Patients who experience one or more of the risk factors of gum disease should undergo more frequent preventive care to keep infection at bay.
What Is Scaling and Root Planing?
A deep tooth cleaning may sound like what you need after you've skipped a few visits to the dentist, but it's actually the non-surgical therapy for periodontal disease. It's what we also call scaling and root planing, and the treatment may be completed over several visits to Wedgewood Complete Dentistry. Scaling and root planing is performed under local anesthetic, so you don't feel a thing throughout your treatment.
The goal of scaling and root planing is to clean the tooth, its root, and the infected pockets between the gum and the tooth. Your dentist or dental hygienist removes plaque and tartar from the pocket and smooths (or planes) the root to rid its surface of the toxins that cause the infection.
Non-surgical periodontal therapy may be combined with antibiotic therapy for complete healing of the infection.
Maintaining Healthy Gums Following Periodontal Therapy
After your deep cleanings are complete and your gums have fully healed from periodontal disease, your continued oral health depends on excellent dental hygiene habits at home. Make sure you are brushing your teeth for two minutes, at least twice a day. Brushing after each meal will help keep your teeth and gums even cleaner. Floss gently between each tooth at least once a day, and continue to visit your dentist regularly for follow-up appointments. Smokers and tobacco users should also be aware of the negative effects of tobacco on periodontal health.
Schedule An Appointment With Your Dentist Today!
Are you suffering from swollen, tender, receding gums? It's time for you to be evaluated for gum disease. Dr. Eskridge provides excellent periodontal therapy. And don't forget he's your also cosmetic dentist in Powell, and provides treatment for TMJ, too. Request an appointment at Wedgewood Complete Dentistry today!
Comments Off

on Dentist in Powell Offers Non-Surgical Periodontal Therapy
No Comments
No comments yet.
RSS feed for comments on this post.
Sorry, the comment form is closed at this time.