July 21, 2017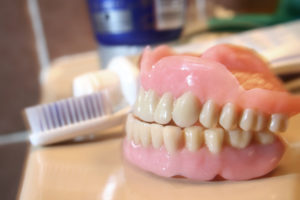 If you've experienced advanced tooth loss or were recently informed that you would need a partial or full denture, you may feel worried about the potential outcomes. However, today's dentures are well-made and crafted from the highest quality materials to ensure the comfort and longevity of every prosthetic. Feel free to continue reading more about dentures here, or contact our caring team to schedule a denture consultation at Wedgewood Complete Dentistry. We'll evaluate your smile and walk you through all of your tooth replacement options including partial and full dentures.

Types of Dentures
Both partial and full dentures are available from our Powell dentist and team. Partials fill in the gaps when patients are missing several consecutive or nonconsecutive teeth. Full dentures are made to fit snuggly against the gum line to replace a complete row of teeth. In addition to removable prosthetics, we also provide dental implant supported dentures that provide increased stability.
The Denture Process
Patients who choose traditional dentures should plan to visit us two to three times. During the initial visit, we'll remove any damaged or decayed teeth as necessary. Then, we'll use x-rays and bite impressions to design your partial or full denture. A trusted dental lab will use the information we collect to create your custom dental prosthetic. When we receive the denture, you'll return to our office to have your denture fitted. In some cases, the partial or full denture fits flawlessly on the first try. However, we often need to make adjustments and invite patients back to retry their denture. Dental implant supported dentures are crafted in much the same way, but there will be one or more additional appointments where implant posts will be placed to provide support for the dental prosthetic.
Caring for Dentures
Caring for replacement teeth can be more involved than traditional tooth care, but with proper in-office and at-home hygiene, a well-made denture will last for years. Some tips to ensure the longevity of a partial or full denture prosthetic include:
Brush your removable denture each day using minimally abrasive toothpastes and denture toothbrushes
If you're concerned about dropping your denture, place a towel or other plush object down before you begin brushing
Implant supported dentures should also be brushed twice daily just like natural teeth
Store removable dentures in cool water or cleaning solution when not in use to ensure they keep their shape
Visit our Powell dental team at least twice a year to ensure your partial or full denture remains whole and fits comfortably for years to come
Comments Off

on A Patient's Guide to Dentures
No Comments
No comments yet.
RSS feed for comments on this post.
Sorry, the comment form is closed at this time.