April 4, 2019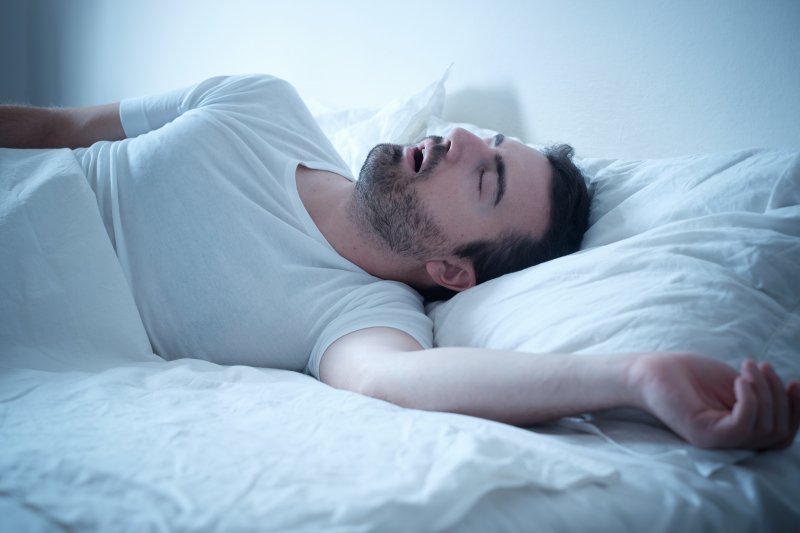 If you're feeling chronically fatigued, have frequent morning headaches, or you sound like a buzz saw throughout the night, you are probably suffering from sleep apnea. This common sleep disorder affects millions of adults in the United States, and if left untreated, it can lead to serious health conditions such as heart attack, stroke, or even sudden death. If you are unsure about its symptoms, let a dentist tell you what to look for and how you can receive treatment and start getting a restful night's sleep.
What is Sleep Apnea?
Sleep apnea occurs when your airway is blocked and breathing stops for 10 or more seconds. When this happens, your brain will be triggered and attempt to alert your body to wake up. Your blood pressure will rise and cause you to wake suddenly. Oftentimes, you make wake up gasping for air. When your blood pressure rises over and over again, it can lead to a heart attack. Of course, that's not the only serious health-related concern sleep apnea can cause.
If left untreated, sleep apnea can lead to cardiovascular disease, respiratory disease, and more. Although some people tend to think it's just an annoyance because of the loud snoring, it can actually be much more devastating on the person suffering from the condition.
What Are the Symptoms Associated with It?
The only way you can be officially diagnosed is to have a sleep study performed. However, there are some ways you can tell if you might be suffering from sleep apnea. These symptoms include:
Loud, excessive snoring
Chronic fatigue (difficulty staying awake throughout the day)
Frequent morning headaches
Mood swings
Sore or dry throat
Insomnia
Forgetfulness or memory loss
You might also take into consideration that if you are obese, you're more likely to have sleep apnea. This is because if fat forms around your neck and causes it to thicken, it can restrict the area within your throat, making it more difficult to receive adequate air while asleep.
How Can My Dentist Help Treat It?
If you are worried that your only treatment option is a Continuous Positive Airway Pressure (CPAP) mask, fear not! Your dentist can offer oral appliance therapy for treating mild to moderate sleep apnea. Approved by the FDA, this device is compact and portable. By wearing it in your mouth while you sleep, it adjusts your jaw so that your throat and airway remain open at night.
Don't spend another night fighting sleep. Talk to your dentist about getting treated for sleep apnea and start getting the sleep you need.
About the Author
Dr. Ryan Eskridge, DDS, attended John Carroll University in University Heights, Ohio, before he enrolled at The Ohio State University College of Dentistry, completing his degree in 2002. Known for his attention to detail and commitment to continuing his dental education, Dr. Eskridge is skilled in treating obstructive sleep apnea. He and his team understand the toll sleep apnea can take on you, which is why he is dedicated to helping you get the restful night's sleep you deserve. To find out how we can help, visit our website or call (614) 792-0063.
Comments Off

on Discover the Common Symptoms of Sleep Apnea and How Your Dentist Can Help
No Comments
No comments yet.
RSS feed for comments on this post.
Sorry, the comment form is closed at this time.