January 15, 2017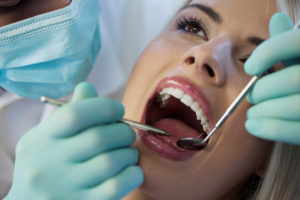 No two individuals have the same oral health needs. Neither do two families. So, selecting the right dentist in Powell can be complicated unless you use some tried and true strategies. Read some ways to find your best dentist, and you'll likely choose Wedgewood Complete Dentistry. Drs. Ryan Eskridge and Norman Straker have extensive experience in a wide range of dental issues, and they keep their skills fresh through peer accountability and continuing education. For your family and cosmetic dentistry needs, this dental team could be the best choice for you and yours.
Strategies for Finding a Dentist
When answering the question, "Can I find a new dentist near me?" first ask yourself what you need. Everyone, regardless of age or background, needs solid preventive care–exams, cleanings, mouthguards for sports and TMJ, sealants and fluoride treatments for the kids. Plus, attention to the patient as an individual is important. Who would want to be treated in with a one-size-fits-all approach by your dental care provider?
As such, ask your doctor, pharmacist, co-worker or trusted friend for a dental referral. Tell them that you want a long-term relationship with a dentist who puts prevention first. Also, ask if the dentist provides what you and your family need–orthodontics for the teenager, cosmetic dentistry services for you or tooth replacements and restorations for the seniors in the family. Additionally, does the prospective dentist make people feel welcomed, comfortable and listened to?
Next, investigate new dentists through your local or state dental association. These groups are affiliates of the American Dental Association, and they have lists of member dentists in your area. While belonging to a dental association or other professional group cannot guarantee that a dentist is a quality practitioner, it does indicate a desire to be accountable to peers and to keep abreast of all things dental.
Additionally, look at consumer rating websites such as Healthgrades and Angie's List. They'll give you information on doctors and dentists near you and detail actual patient experiences.
When you have compiled your short list of dentists, look at their websites. Professional websites provide a wealth of information, such as:
Offered treatments
Credentialing
Hours of operation
Staff biographies
Financing
Insurance
Location and contact information
Finally, contact the dentist to request a short tour. A quality dental office welcomes prospective patients, gives brief tours and answers questions in a friendly, unhurried way. This informal visit may be your best vetting tool.
Could Wedgewood Complete Dentistry Be the One?
The dedicated team at Wedgewood Complete Dentistry would love to tell you about their dental practice. They offer:
In-depth oral exams and thorough hygienic cleanings
Modern restorations such as composite resin fillings and CEREC same-day crowns
Traditional bridgework and dentures
Inventive dental implants and implant-supported prosthetics
Great aesthetic treatments such as porcelain veneers and Zoom! Whitening for unbelievable improvement in your smile appearance
TMJ and sleep apnea treatments for better overall health and function
Invisalign clear aligners, an innovative way to straighten crooked smiles
Care to Learn More?
Our staff would love to answer your questions. Please contact Wedgewood Complete Dentistry today to arrange an office tour. We're sure you'll choose us to be your dental care providers.
Comments Off

on Finding the Right Dentist in Powell
No Comments
No comments yet.
RSS feed for comments on this post.
Sorry, the comment form is closed at this time.