November 9, 2020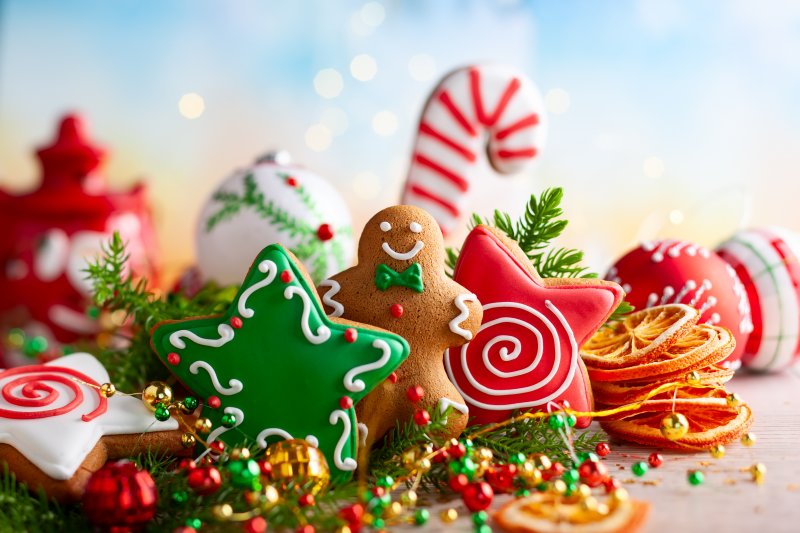 The holidays are quickly approaching, and if you're like most people, you're already salivating over the delectable goodies waiting for you at your parent's house. From the yams and stuffing to the cookies, cakes, and candy canes, this time of year is when calories no longer seem to matter. But even if you're not being mindful of your waistline these next few weeks, you may want to rethink how some of your favorite holiday foods can hinder your teeth and gums. Read on to find out which ones you should avoid if you want to ring in the new year with a show-stopping smile.
Sugar-Filled Baked Goods
No matter if it's beautifully decorated cookies or one of your grandma's homemade pies, these sugar-filled baked goodies are bound to wreak havoc on your teeth. When sugar meets the enamel of your teeth, it can quickly turn into a breeding ground for bad bacteria. The longer it sits on your teeth, the greater your chances it will begin to eat away at the enamel, eventually penetrating this initial layer and resulting in a cavity. It's best to eat these sweets in moderation and make sure to keep a glass of water nearby and brush your teeth immediately after eating.
Stuffing
Considered to be one of the most popular side dishes at the holiday table, stuffing is packed with carbohydrates, which means it consists of a lot of starch. When eaten, these starches quickly convert into sugar, resulting in added inches to your waistline and an open invitation for bacteria to form in your mouth. Dental plaque can begin to develop and turn into cavities if you don't take care of your oral health while out of town. If you want to keep your enamel intact and better protected, either skip the stuffing or eat a small portion before brushing your teeth.
Candy Canes
Who doesn't love the taste and look of a candy cane? It is the epitome of holiday cheer and is bound to fill stockings every year. Unfortunately, these red and white treats are filled with sugar, specifically sucrose and high fructose corn syrup. While it doesn't hurt to have one, try to keep it at that instead of consuming an entire box.
Dried Fruits
If it's a fruit, it must be good for you, right? If it's fresh, yes, it is a much healthier alternative; however, if it's dried, not so much. These sticky treats are often filled with preservatives and offer no nutritional value. Instead, their consistency causes them to cling to your chewing surfaces, making it easier for sugars to creep into the pits and grooves of your teeth and eventually form cavities. If you're craving apricots or cranberries, stick to the fresher versions that will help, not hinder your smile.
Eggnog, candied yams, and even cranberry sauce are also harmful to your teeth, so when preparing to enjoy your favorite meal of the year with family and friends, try to avoid these above-mentioned items and look for healthier alternatives to keep your teeth shining bright.
About the Author
Dr. Ryan Eskridge attended John Carroll University in University Heights, Ohio, before he enrolled at The Ohio State University College of Dentistry, completing his degree in 2002. Known for his attention to detail and commitment to continuing his dental education, Dr. Eskridge is always looking for ways to help patients achieve healthier, more beautiful smiles. Offering preventive services to curb early signs of decay and gum disease, he also provides his patients with helpful tips and tricks to avoid letting the holidays get the best of teeth and gums. If you want to make sure your smile looks it best in 2021, visit our website or call (614) 792-0063.
Comments Off

on Home for the Holidays: Don't Let These Foods Harm Your Smile
No Comments
No comments yet.
RSS feed for comments on this post.
Sorry, the comment form is closed at this time.