December 3, 2020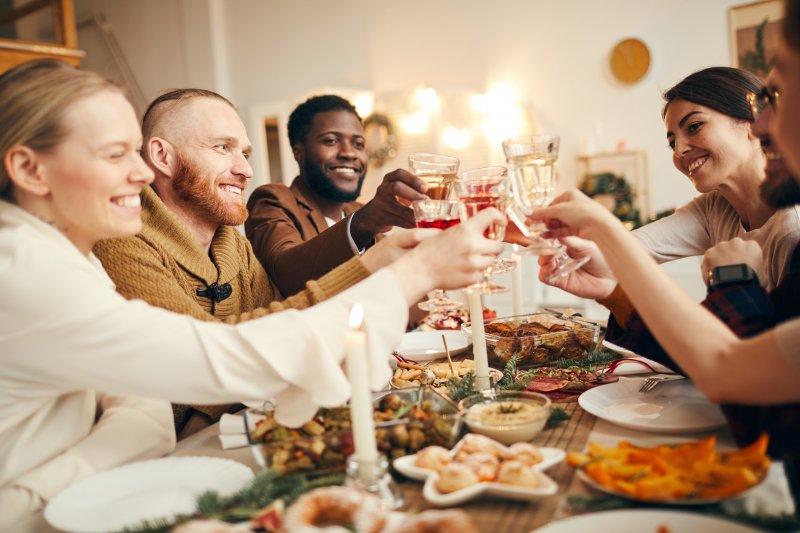 You've been waiting all year to celebrate the holidays again! Whether you are busy preparing gifts, stringing lights around your home, listening to festive music, or breaking out the old family cookbook for some delicious holiday foods, you have plenty to look forward to. However, you won't be eager when searching "dentist near me" because you suspect that you have cavities. Continue reading for some tips to keep your smile in good shape this holiday season.
Drink Water
As much as you want that can of soda or that glass of wine, it is best that you stick to water. Soda has tons of sugar in it which will leave your teeth vulnerable to harmful bacteria. If you want something fizzy, try having a sparkling water instead. Instead of wine, which is quite acidic and staining, opt for a gin and tonic instead to wind down the night.
Eat Healthy
Save a large portion of your plate for healthier foods. Turkey is a great option because it contains phosphorus, which works will calcium to keep your teeth and bones strong. Have plenty of vegetables as well. Carrots and broccoli are loaded with vitamin A which will strengthen your enamel. By having plenty of healthy options for your holiday dinners, your teeth will thank you!
Cut Back on the Sugar
Candy is delicious and sometimes, we just can't get enough. However, harder candies, like candy canes, can crack your teeth when you bite down on them wrong. Not to mention that they are pretty much pure sugar. Other starching and sugary foods aren't any better. Remember to limit the number of sugary treats you have each day and brush thoroughly afterwards.
Maintain Excellent Oral Hygiene
When you're travelling and your schedule gets jumbled up, you may find that it is easy to slack on your oral hygiene routine. Remember to always bring a toothbrush, toothpaste, and dental floss when you are staying someplace overnight. You can even find travel oral hygiene kits at the store!
Don't Use Your Teeth as Tools
Don't be cracking open nuts, popping bottles, or ripping through stubborn packaging with your teeth. Your teeth are meant for chewing and smiling, not as your own personal tooth at your disposal. You could easily end up with a broken tooth. Nobody wants to spend time during the holidays getting additional dental work done!
This holiday season, be mindful of your smile! By using the tips listed above and seeing your cosmetic dentist in Powell for regular checkups, you can start the new year with strong, healthy teeth!
About the Author
Dr. Ryan Eskridge is an experienced dentist who has been practicing for 14 years! He earned his DDS from The Ohio State University College of Dentistry and is committed to continuing his dental education to this day. He is currently involved with the American Dental Association, Academy of General Dentistry, American Academy of Cosmetic Dentistry, and many more. For more ways to keep your smile healthy or to schedule an appointment, visit his website or call (614) 792-0063.
Comments Off

on How to Keep Your Teeth Safe This Holiday Season
No Comments
No comments yet.
RSS feed for comments on this post.
Sorry, the comment form is closed at this time.