August 24, 2023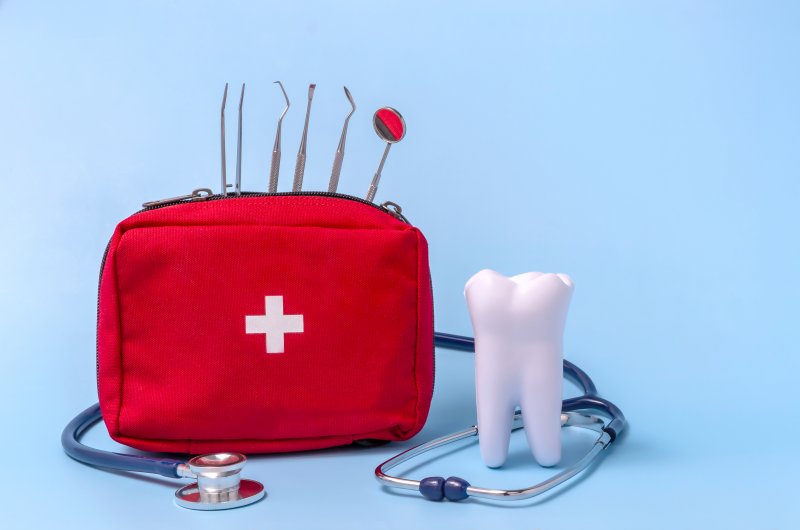 Even if you're careful, you can't always prevent dental emergencies. Urgent oral issues inevitably happen from time to time. You'd thus be wise to plan ahead and make a dental emergency kit. Still, maybe you don't know what to include in this little tool collection. There's no need to panic, though – your local Powell dentist has a few things to suggest. Read on, then, to learn four crucial items to pack in a dental emergency kit.
A Dental Mirror
You may think a dental mirror wouldn't help with an urgent oral issue. However, the reality is quite the opposite.
Truthfully, not all parts of your mouth are clearly visible. Some are obscured by nearby objects or hidden within shadows. As such, a dental mirror could let you see injuries or damage that a regular mirror wouldn't. You'd then better understand your oral problem and how best to solve it.
To stay prepared, you could even buy a dental mirror with a built-in light. This item would let you see even in poorly lit places. If that's not possible, consider adding a flashlight to your kit.
Cotton Balls & Gauze
Cotton balls and gauze are also good additions to a dental emergency kit. Depending on the situation, they'd greatly help with your oral issue.
Remember, a dental emergency can involve bleeding. Blood might flow from a jaw socket, gums, or a cut on your lips. Therefore, pack cotton balls and gauze to compensate. Biting on these products will reduce the blood flow and keep your wound clean.
At the same time, don't just jam these things into the kit. Instead, make sure the cotton and gauze are packed neatly. Doing so will keep them bacteria-free for later cleaning.
Pain Relievers
Pain medications are an obvious choice for your kit. Given the right kinds, your oral condition will be much more tolerable.
Naturally, dental emergencies tend to be painful. They involve problems – cavities, infections, etc. – that aggravate oral nerves. So, having pain relievers in your kit would ease your burden. The medicines could reduce aches while you wait for a dental visit.
Ideally, you can find over-the-counter pain medications at a local pharmacy. Good examples include Tylenol (i.e., ibuprofen), Orajel cream, and so on.
A Small Container
Lastly, put a small container in your emergency kit. It could contribute a lot to your long-term oral health.
You see, you may suffer a knocked-out tooth in the future. (This could happen from an accident, decay, etc. ) In that case, having a small container on hand would be vital. The object would let you store your now-missing tooth or any of its fragments. That way, you could bring it (or them) to a dental visit and save your chomper!
In the end, a dental emergency kit makes urgent oral issues manageable. So, add the items above to your own!
About the Practice
Wedgewood Complete Dentistry is based in Powell, OH. Led by Dr. Ryan Eskridge, our practice offers truly top-tier dental experiences. In particular, we perform preventive, cosmetic, and restorative services, as well as emergency dental work. Our team is thus equipped to handle everything from dental checkups and crowns to root canal therapy. If you'd like more information or to book a visit, reach us on our website or call (614)-792-0063.
Comments Off

on What to Pack in a Dental Emergency Kit
No Comments
No comments yet.
RSS feed for comments on this post.
Sorry, the comment form is closed at this time.