November 28, 2016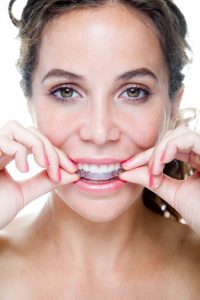 Congratulations! You've decided to straighten your teeth with Invisalign, and the result will be a beautiful and healthy new smile. You've got a few months of treatment ahead of you, and you may not know that there are a few things you can do to help your treatment go smoothly. Dr. Ryan Eskridge offers tips for wearing Invisalign in Powell.
What is Invisalign?
Instead of utilizing traditional braces, Invisalign uses clear plastic aligners to apply gentle pressure and gradually move your teeth. You'll wear your aligners 22 hours per day and change them every two weeks. Aligners are comfortable to wear and can easily be removed for eating, brushing, and flossing. Most Invisalign cases can be completed in 12-18 months, making them a great choice for busy adults.
Tips for Successfully Wearing Invisalign
Wearing your aligners may seem like a no-brainer; however there are a few tips to keep in mind that will help your treatment go smoothly and successfully.
Use "chewies" to help your aligners fit better. Chewies are made of a material called Styrene Copolymer that you can bite down on to help to seat your aligners more effectively when you first put them in. A snug fit makes for more efficient treatment.
Always bring your travel toothpaste and toothbrush. You'll want to brush after every meal when you're wearing aligners. This helps to keep your teeth clean as well as your aligners.
Be aware of what you drink throughout the day. Just like coffee and tea can stain your teeth, they can also discolor your aligners. It's no fun to wear a yellow colored aligner for two weeks.
Be sure to wear your retainer when treatment is completed. You've successfully straightened your teeth with Invisalign, and now you'll need to wear your retainer diligently at night in order to maintain your straight, beautiful smile.
Dr. Eskridge and his team are here to help you make the most of your Invisalign treatment. Because we've treated many Invisalign patients, we know what works and helps to make treatment more successful. Since your aligners are removable, there are no changes to your home care routine as there would be with traditional braces, so your oral health doesn't suffer during Invisalign treatment.
We're happy that you've decided to invest in your oral health with Invisalign treatment and we know you'll be amazed with your results. We encourage you to contact our office with any questions you might have regarding your Invisalign, as we're here to help you!
Comments Off

on Tips For Wearing Invisalign in Powell
No Comments
No comments yet.
RSS feed for comments on this post.
Sorry, the comment form is closed at this time.