December 14, 2018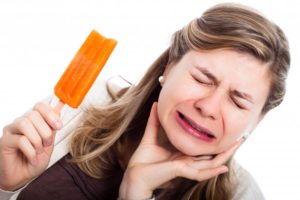 Ouch! That hot coffee just hurt one of your teeth. Maybe you also avoid eating ice cream, even though you love it, because of your sensitive teeth. Is it really something to worry about? It could indicate something more serious. Whether you're in a dental emergency with a severe toothache or you just have sensitive teeth, you can do something about it both on your own and with your dentist.
Why is my tooth sensitive?
Your tooth is not just a solid, rock-hard substance. Under the outer shell of enamel, there is a layer called dentin, which houses channels that communicate with the nerves in the center of your teeth. Regardless of location on the tooth, whether on the crown or root, when the dentin becomes more exposed and comes into contact with hot, cold, acidic, or sticky foods, it can trigger a response.
The following are ways that dentin can become exposed:
Worn tooth enamel from using a hard toothbrush and brushing aggressively.
Tooth erosion from highly acidic foods and drinks.
Fractured tooth.
Gum recession.
Tooth decay or a cavity.
Grinding your teeth (bruxism).
Post-dental treatment sensitivity, which is common but temporary.
How can I treat tooth sensitivity over-the-counter?
Sometimes you can handle tooth sensitivity on your own. At the store, look for desensitizing toothpastes, which block the nerve endings in the exposed dentin. To get the best results, use it consistently, and you should notice a difference in as little as two weeks. You can also purchase mouthwash that contains fluoride, which strengthens your teeth's enamel. With these tips, some sensitivity can be controlled.
If you experience significant pain, first contact your dentist to get an appointment. If you can't see your them right away, you can try using a cold or warm compress to help manage the pain.
What can the dentist do to help my tooth sensitivity?
You definitely should not ignore severe toothaches. They can indicate conditions that you will not be able to treat alone. If the cause of your toothache or sensitivity is a cavity or fractured tooth, the dentist is equipped to fix those issues with a filling or root canal.
Even if you treat your sensitive teeth at home on your own, you should still inform your dentist about it, especially if it's persistent or painful. They can perform an oral exam, see if there is a more serious issue, and provide additional advice for bringing you relief.
Also, dentists have access to advanced tools and materials that you don't. Therefore, they can do more to help with your sensitive teeth. For instance, your dentist can apply a fluoride gel to strengthen the tooth enamel. Other treatments are painted onto the teeth, such as fluoride varnishes and plastic resins.
How can I avoid tooth sensitivity?
You can reduce your chances of getting sensitive teeth by practicing good oral hygiene. These practices include the following:
Brushing at least twice daily.
Flossing at least once daily.
Using a soft-bristle toothbrush.
Choosing a low-abrasive or desensitizing toothpaste.
Using a mouthwash with fluoride.
Avoiding acidic foods and drinks.
Attending your dental checkup and cleaning twice a year for preventive care.
You don't have to suffer silently with sensitive teeth. With the proper oral habits and help from your dentist, you can enjoy the foods and drinks you love again without worrying about sensitivity. Take the first step to getting your life back by scheduling an appointment with your dentist!
About the Author
At Wedgewood Complete Dentistry, Dr. Ryan Eskridge and the team strive to protect and preserve patients' healthy smiles, putting priority on finding potential issues before they begin. With their advanced technology, such as digital X-rays and soft tissue lasers, they can both diagnose and treat dental conditions more efficiently than ever before! You can contact Wedgewood Complete Dentistry by calling (614) 792-0063 or clicking here.
Comments Off

on Tooth Sensitivity: What You Can Do on Your Own and with Your Dentist
No Comments
No comments yet.
RSS feed for comments on this post.
Sorry, the comment form is closed at this time.